WireHider Raceway Systems
WireHider Raceway Systems Online Store
Your Online Source For Premiere Raceway Systems, LLC. Cable Management Systems

Fast And Easy To Use! Cut Cable Management Installation Time In Half.
Great For Security Installations, Telephone And Fax Lines. Home Entertainment Centers and Home Theater Systems.
CHILD/PET SAFETY - Protect Your Children And Pets From Dangerous, Dangling Wires!
Raceway-on-a-Roll Allows For Long, Uninterrupted Runs, With No Waste And No Couplers Needed....A Favorite With Installers.
Used In Schools, Government Buildings, Military Bases, Office Buildings, Work Centers And Homes Throughout The Country Since 1990!
Wirehider® non-metallic (Clear Raceway System) Satisfies The Visual Identification Code Required For Government Installs.
WireHider Raceway Systems Are Available In 3 Choices: Biege Clear & White:

All Premiere Raceway Systems Are Manufactured From UL94-VO, Flame-Retardant Material, With A UV Stabilizer Additive.
All Premiere Raceway Systems Have A Specially Blended, Solvent-Based Adhesive-Backed Tape, Already In Place.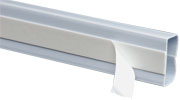 Wirehider Raceway Systems Match The Knockouts In The UNICOM Surface Mount Boxes, No Adapter Is Necessary.